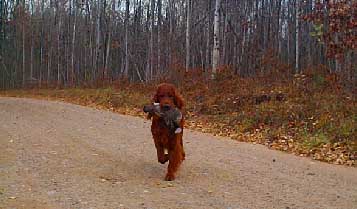 © Copyright 2004

Aaron Irish Setters
Elmhurst, Illinois 60126


Field Hunting Dogs
We are Breeders of a elegant line of hunting Irish Setters for the avid hunter. Our Irish Setters also make excellent family pets. If you have been looking for a mild temperament Irish Setter for sale, we have just what you want. Our dogs have been breed for their mild temperaments, which make them a good family dog. All of our puppies are pet quality ~ used for family pets or hunting purposes.
Often we get inquiries about health issues concerning Irish Setters. The best site that we have found that address these issues is the
AKC Irish Setters Information Center
. You should visit this site if you have concerns about genetic and health issues with this breed.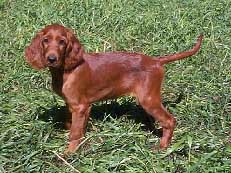 The picture above is one of our Irish Setter pups sun bathing in the warm autumn sun. In a few months he will make a fine bird dog for hunting game birds. Picture on the right is one of our bird dogs retrieving. Visit our Irish Setter Puppies page to see our pups.

OUR KENNEL HISTORY

Our family was a family of hunters. Everyone in our family owned a gun for hunting grouse, geese, pheasants and other game. During the 1950's our family bought our first Irish Setter bird dog. He was used for hunting and he enjoyed the hunt, especially for grouse. He would run up and down the edge of the field looking for game bird to flush out to us when we were hunting. Irish Setters make good dogs for hunting. Our dogs have very mild temperament and are good for a family pet as well.
Finding Hunting Irish Setter puppies for Sale Today
When we would go out hunting, other hunters would ask us where they could find a good Irish Setter for sale, they told us that finding a hunting dog line was difficult. So we decided to begin breeding this line of deep mahogany red hunting Irish Setter, which descend from the famous American hunting line of
Smyth Irish Setters Kennel
.
We could find no better line anywhere than this hunting line so we purchased our breeding stock from this famous American Kennel. If you are interested in one of our dogs.